Overview
Clicky has built a loyal following over the past thirteen years that they've been around. Don't let the simple layout fool you, though — Clicky's dashboards are imminently practical, and it's possible to dig into the details like how many returning visitors came from a specific country, referrer, or campaign.
Pricing
Clicky offers a basic free plan for a single website up to 3k page views per day, or about 90k page views per month. After that, pricing starts at $9.99 per month and increases depending on the number of page views, websites, and advanced features you want. Clicky's traffic allowance is significantly higher than most other analytics tools for the price.
| Traffic | # of Sites | Pricing |
| --- | --- | --- |
| 90k page views / mo. | 1 | Free |
| 900k page views / mo. | 10 | $9.99 |
| 3m page views / mo. | 30 | $19.99 |
| 6m page views / mo. | 100 | $37.99 |
Dashboard Experience
Clicky leans  heavily on tables rather than flashy charts to display your visitor data, but the result is that . There's a strong emphasis on presenting information in a way that minimizes distractions. The result is a dashboard that puts all of your site's data at your fingertips. It may not offer the same level of visual interest as the newer analytics tools, but it has plenty of advanced functionality ready when you need it.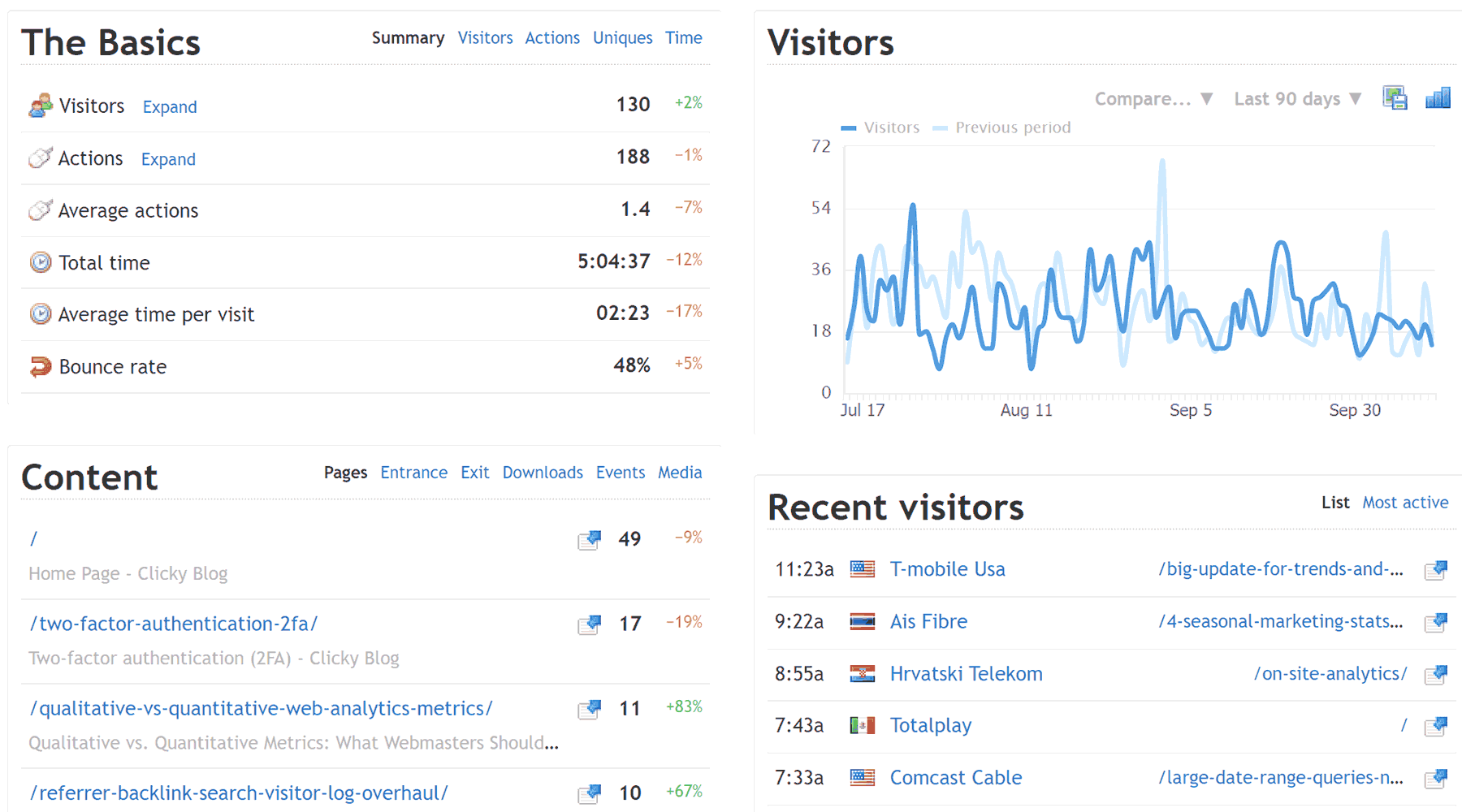 Additional Features
Thanks to their years of development, Clicky boasts an impressive list of capabilities that go beyond what you might expect from an independent tool. Features like uptime monitoring, split testing, and Twitter analytics are especially useful if you're looking to reduce the need for other tools and monitor interactions with your site and brand from one dashboard.
FAQs
How long has Clicky been around?
Clicky was founded in 2009. 
What is the data retention policy?
Clicky offers 30 days of history to free customers and indefinite history for most data if you are on a paid plan. Learn more
---