Overview
Cabin is a privacy-friendly analytics service that also shows you information about the carbon and energy usage of your websites. The dashboard presents all the information that you might want to know and will call out any key information, such as an increase in visitors from specific countries.
Pricing
Cabin offers just two pricing options: A free plan that offers unlimited pageviews for a single website, or a $19 per month plan that supports unlimited websites and comes with expanded data retention and some extra features like CO2 reporting.
| Traffic | # of Sites | Pricing |
| --- | --- | --- |
| Unlimited page views / mo. | 1 | Free |
| Unlimited page views / mo. | Unlimited | $19 |
Dashboard Experience
While most analytics dashboards try to show you as much information as possible, Cabin takes a slightly different approach by organizing the dashboard into sections. You scroll through them one at a time, which means that the dashboard reads almost like a report on your site. This could be a good thing or a bad thing, depending on your style. If you're someone who likes to deep dive into each metric one at a time, Cabin just might be the best analytics tool available today.
Additional Features
Aside from the usual suspects like page views, unique visitors, bounce rate, and referrers, Cabin can also keep track of a few other stats that I haven't seen other tools handle. The most useful one is automated tracking of referral tweets, which can help you keep an eye on social mentions of your sites. Cabin will also keep track of your carbon usage
Demo Dashboard
Cabin offers a free demo of its dashboard so you can see exactly what you'll be getting.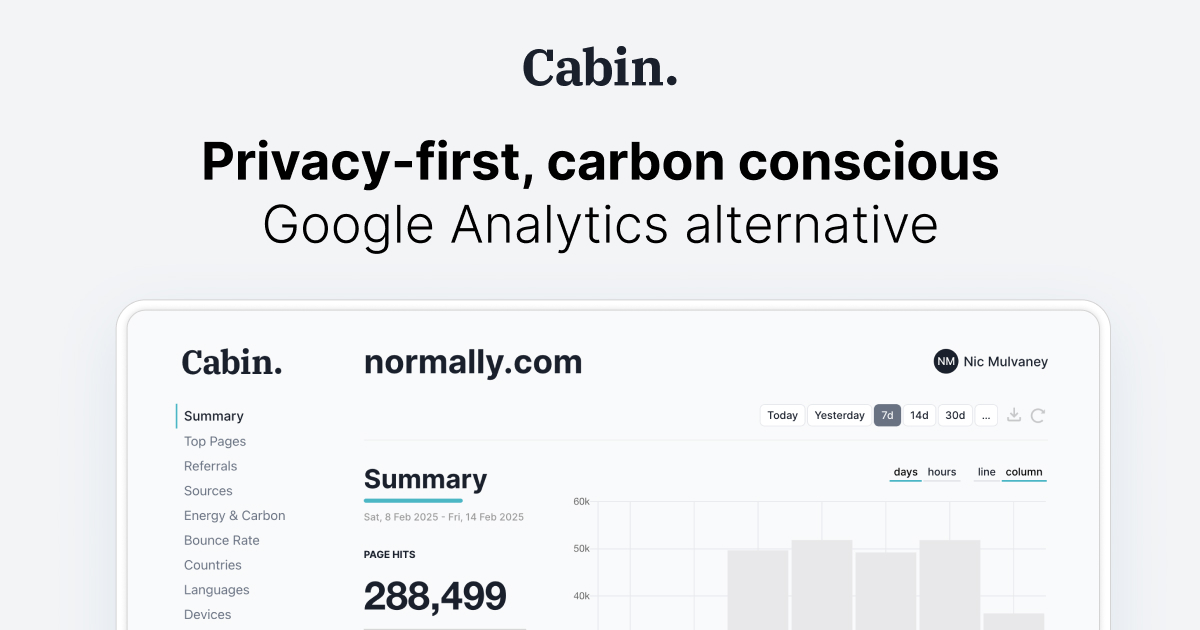 FAQs
How long has Cabin been around?
Cabin launched its beta in June of 2020.
What is the data retention policy?
Cabin offers 30 days of history to free customers and unlimited history for its $19 per month Pro plan. Learn more
---